SOFINS 2019 – COSE participates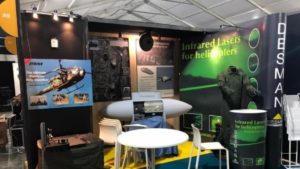 COSE presented its equipment especially for special forces such as the STRIKE stabilizer arm for helicopter on-board snipers and its GlobalScanner mapping and image intelligence system.
The visits of our customers were numerous and the exchanges very constructive.
The many foreign delegations present attended flight presentations by the 4th RHFS (4th Special Forces Helicopter Regiment). These presentations demonstrated the relevance and effectiveness of our STRIKE equipment.
High-precision aerial and ground maneuvers incorporating STRIKE equipment have demonstrated procedures for capturing hostile elements traveling in fast moving vehicles.