BOURGET 2017- Paris Air Show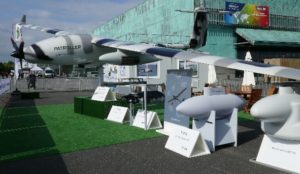 Participation in the Paris Air Show 2017
COSE presented its imaging systems, including a SINATHRA system on its Stand in HALL 4. This system, implemented by the 61st artillery regiment, makes it possible to complete the satellite coverage of a theater with high performance and time. very small image acquisition.
The model of the POD Xplorer of aerial and cartographic reconnaissance codévelopped by COSE and SAFRAN defense and security was presented on the Stand Patroller of SAFRAN implanted on the tarmac of Bourget. Recall that the Patroller was retained by the French army to equip the intelligence of the army. French SMEs participating in this program are grouped within the Patroller Cluster in which, in addition to the supply of complementary equipment and systems, they can become a source of proposals.
On this occasion COSE would like to thank all the members of the administration who, through their efforts to organize many foreign delegation visits, interested in our equipments, contributed to make this world event a success for us.